Will Argentina's World Cup Title Be at Risk Because of Papu Gomez's Doping Ban? The Argentine footballer, Papu Gomez, tested positive for doping before the 2022 World Cup. This resulted in him getting a two-year ban from football. There is a high chance that Gomez may lose his Europa League and World Cup.
To strip teams of their titles, there must be more than two players testing positive for doping. However, there is an ongoing debate among football enthusiasts, players, and experts about whether or not the players on the Argentine team including Messi are at risk of losing their World Cup medals due to Papu Gomez's situation.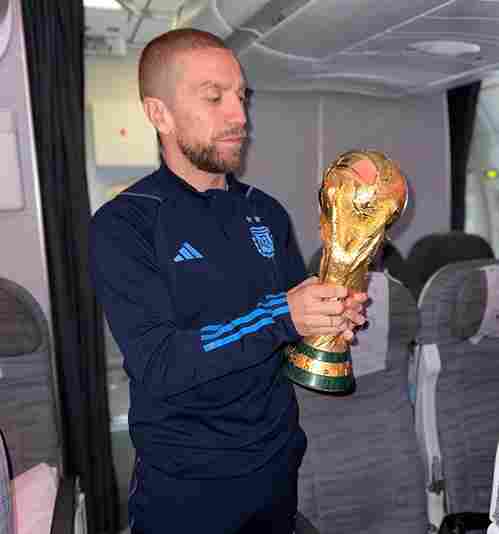 Why Is Papu Gomez Banned For 2 Years?
The 35-year-old midfielder, who plays for Monza in Serie A, tested positive for terbutaline during his time at Sevilla in October 2022. He has made just two appearances for Monza this season. He was also a part of the Argentina side that won the World Cup in December 2022. Monza said the positive test was due to "involuntary ingestion" and that it would consider the next steps. Doctors commonly use terbutaline to treat lung diseases like asthma and bronchitis.
Also Read: FIFA World Cup Qualifiers 2023: Messi's Struggles and Neymar's Hurdles
What Would Be The Consequences If Argentina Loses Their World Cup Title?
Losing a title as big as the World Cup will be shocking and extremely painful for the people of Argentina & its players. Messi and his teammates have worked very hard in every match of World Cup 2022 to win the title. If FIFA cancels the World Cup 2022 final result, the players of Argentina will lose their FIFA World Cup medals and the trophy. Argentina might face harsh consequences in the upcoming World Cup as well along with criticism from football fans.
Will Argentina Lose Their Title For The Doping Ban Of Papu Gomez?
As per article 11 of the World Anti-Doping Code if there are 2 or more members caught doping then only a team or club can lose their title. Papu Gomez was the only player who tested positive for doping in Argentina & Sevilla FC. Thus, the teams won't face any kind of ban. 
If FIFA follows Article 26 of the new 2021 anti-doping regulations, any player testing positive for banned substances will result in the cancellation of the match results, potentially causing Argentina to lose its title.
Also Read: Will Messi And Ronaldo Play In FIFA World Cup 2026?
Will FIFA Enforce The Article 26 Anti-doping Rule?
The rule states that the results for all matches of the player who tested positive for doping will be annulled from the date the sample was taken. However, FIFA is yet to announce its decision regarding the same.