Top 10 ATP Ranked Tennis Players In 2023 & Their Net Worth. The 2023 season is about to end, and both the men's and women's players have set their eyes on the year-ending finals event. The race to the ATP World Tour Finals hots up as only a few spots are up for grabs. In each of the year-ending events, the top 8 ranked players will participate. 
Let's discuss in detail the current men's and women's ranking and details about the ATP Finals –
Top 10 ATP Ranked Tennis Players (October 2023)
| | | | |
| --- | --- | --- | --- |
| Rank  | Player  | Age  | Points  |
| 1 | Novak Djokovic  | 36 | 11045 |
| 2 | Carlos Alcaraz  | 20 | 8805 |
| 3 | Daniil Medvedev  | 27 | 7355 |
| 4 | Jannik Sinner  | 22 | 5000 |
| 5 | Andrey Rublev  | 25 | 4765 |
| 6 | Holger Rune  | 20 | 4605 |
| 7 | Stefanos Tstitipas  | 25 | 4360 |
| 8 | Casper Rudd  | 24 | 3685 |
| 9 | Alexander Zverev  | 26 | 3460 |
| 10 | Taylor Fritz  | 25 | 3410 |
Source- ATP Tour Official Site
Career Details & Net Worth of Top 10 ATP-Ranked Tennis Players
Novak Djokovic (Serbia)
The number one ranked player is considered the GOAT (greatest of all times) in men's tennis. He has won a record 24 singles grand slams and also holds the record for most weeks as the number one player. Novak Djokovic is also the highest-earning tennis player. His lifetime earnings from tennis stands at $175,281,484. 
Carlos Alcaraz (Spain)
Hailing from Spain, he is a two-time grand slam winner and according to many experts, he is the next big thing in tennis. In 2023, he defeated Novak Djokovic in an epic 5-setter at the Wimbledon Finals and announced himself to the tennis world. With age on his side and exquisite attacking and defensive abilities, look out for the number of titles and grand slams he may win. His total earnings from tennis is $21,336,567. 
Daniil Medvedev (Russia)
He is the number three ranked player and is also a former grand slam winner. Currently on tour, he is the only player apart from Carlos Alcaraz to defeat Novak Djokovic in a grand slam final. He has won 20 singles titles including one grand slam and also the prestigious year-ending finals. Daniil Medvedev's earnings from tennis stands at $34,012,216. 
Also Read: Paris Masters 2023: Venue, Schedule, Prize Money, Where To Watch & Predictions
Jannik Sinner (Italy)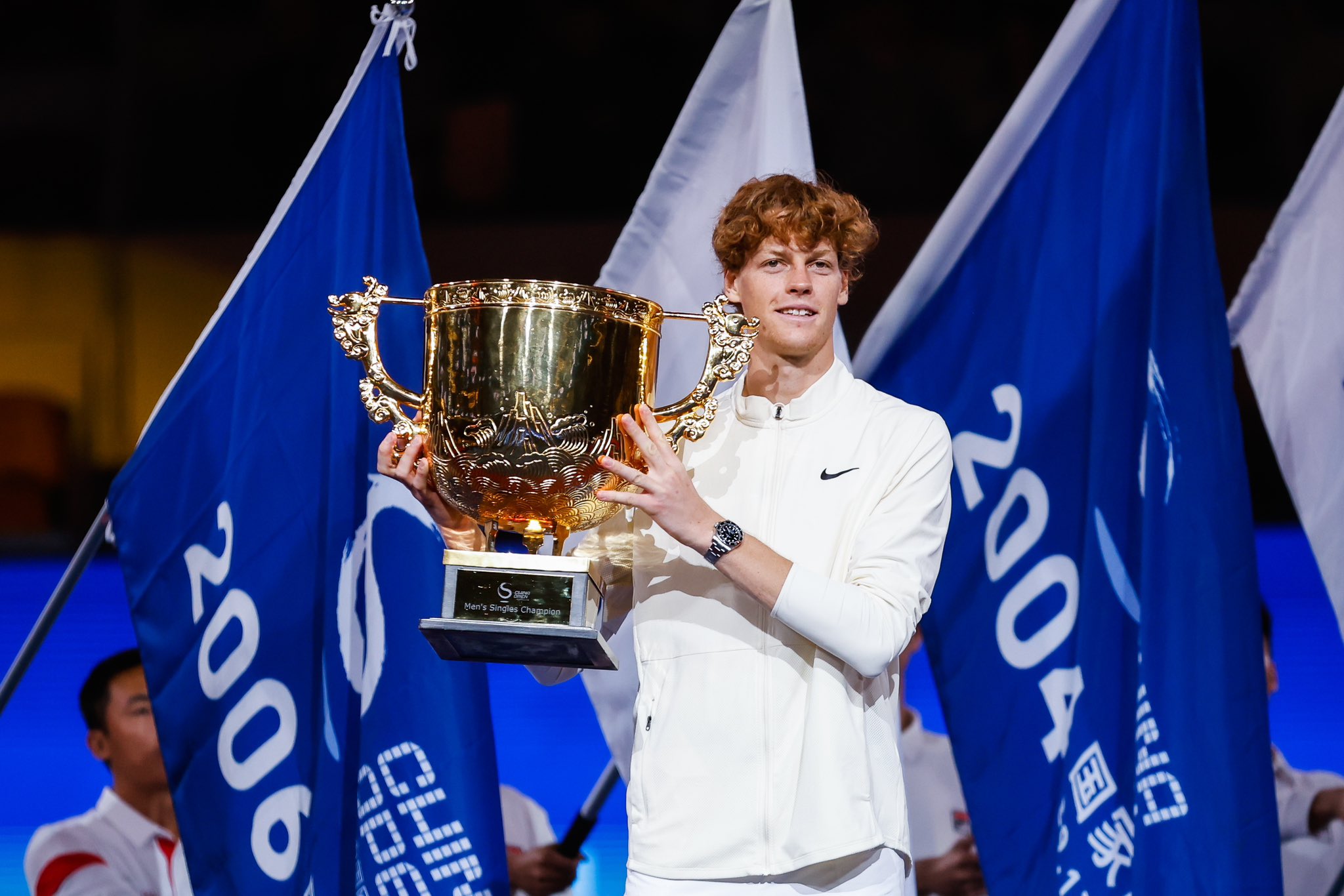 The 22-year-old Italian sensation has had a fantastic 2023 as he reached the career-high ranking of 4th and also the first Masters 1000 title – the Canadian Open. Jannik Sinner has a crushing forehand which gives him the ability to quickly bury the points. He has won a total of 9 singles titles with 2023 being the most successful season. Many consider this season as a jumping point in his career and in the upcoming season he will be a major challenger for the grand slams. His total net worth stands is $11.679,543. 
Andrey Rublev (Russia)
Another promising player emerging from Russia, Andrey Rublev is ranked 5th in the ATP rankings. He has won 14 singles titles and his major victory came at the Monte Carlo Masters 1000 in 2023. He also has an Olympic mixed doubles gold medal to his name which he won in the Tokyo Olympics 2020. Andrey Rublev's total net worth stands at $19,715,035. 
Holger Rune (Denmark)
He is another young sensation who has forced the tennis world to take notice with some impressive performances. Very early into his career, he has won only 4 titles but with age on his side and a full repertoire of shots, he will win many more singles titles over his career. His most significant title was the Paris Masters in 2022 which he won after defeating the defending champion Novak Djokovic in a thriller. His total earnings is $5,988,617. 
Stefanos Tstitipas (Greece)
The number 7 ranked player from Greece has had an up-down start to his career. His initial years were quite impressive as he won the ATP World Tour Finals as well as two Masters 1000 titles apart from featuring in several other significant finals. However, off late his graph has gone down. He came very close to defeating Djokovic at the Rolan Garros 2021 finals when he was leading 2-0 sets but Djokovic made an exceptional comeback to win the next three sets and win the title. He has won 10 titles and his net earnings stand at $27,269,803. 
Also Read: Next Gen ATP Finals 2023: Venue, Schedule, Prize Money, Where To Watch & ATP Ranking Details
Alexander Zverev (Germany)
Fairly old enough on the tour, the German maverick has not done complete justice to his talent. When he burst onto the scene, many considered him a player with the potential to win many grand slams and break the hegemony of the big three. With many on the tour, he has not been able to win even a single slam. His most significant career victory was the Singles gold at the Tokyo Olympics, in 2020 and two ATP World Finals titles in 2018 and 2021. His total career earnings are $36,550,638. 
Casper Rudd (Norway)

The 25-year-old Norwegian-born tennis player is very impressive, especially on the clay courts. In his short career, he has participated in three grand slam finals but ended up losing all three. He can make amends and win many slams in the future if he keeps himself in shape. He has 10 singles titles to his name and his total earnings is $16,095,527. 
Taylor Fritz (USA)       
The only American in the top 10 rankings, Taylor Fritz has had a meteoric rise in tennis. 2023 has been quite fruitful to him as he burst into the top 10 and is in contention to be a part of the prestigious ATP World Tour Finals. His total career earnings is $12,913,219.   
Also Read: Australian Open 2024: Fixtures, Format, Prize Money (In Indian Rupees), And Broadcast Details 
ATP Finals 2023: When and Where to Watch 
The men's annual finals will be held in Milan, Italy, from November 12 to November 19. The top 8 ranked players (as of November 11, 2023) will participate in the event. The top 8 players will be divided into two groups of 4 players each. A round-robin tournament will be held in each group and the top two players in each group will advance to the knockout round.
As of October 2023, Novak Djokovic, Carlos Alcaraz, Daniil Medvedev, and Jannik Sinner have qualified for the tournament, leaving four spots up for grabs.
The ATP World Tour Finals 2023 will be broadcast in the following regions: 
| | |
| --- | --- |
| Region/Country  | Broadcasters  |
| Africa  | SuperSport  |
| Australia  | BeIN Australia  |
| India  | Sony Sports Network  |
| USA  | Tennis Channel  |
| UK  | Amazon Prime Video  |
| France  | Eurosport France  |