ICC World Cup 2023: Team India Players List, Squad, Their ODI Stats And Full Schedule. Team India is all set to host the 2023 ODI World Cup and the BCCI revealed the 15-man squad of the Blues a while ago. The hosts have a pretty strong and balanced squad this year, with captain Rohit Sharma up front to lead them.
The experienced heads of Rohit, Virat Kohli, Ravindra Jadeja, and Md Shami will be the brains behind this squad, while they have also filled their ranks with young blood like Shubman Gill and Ishan Kishan. Recently Men in Blue won the record 8th Asia Cup 2023 title after beating Sri Lanka in the finals.
This is the first time that India is hosting an ODI World Cup alone. They co-hosted the event last time in 2011 alongside Sri Lanka and Bangladesh and ended up winning the tournament. This time, once again, all eyes are on the Indian players and the expectation is very high. After years of disappointing performances in World Cups, this feels like India's chance to break their rough patch and win the World Cup again. 
The 2023 ODI World Cup starts on October 5 and Team India will be playing their first match of the tournament against Australia on October 8. 
Also Read: ICC World Cup 2023: Full List Of Players Who Will Be Playing Their First ODI World Cup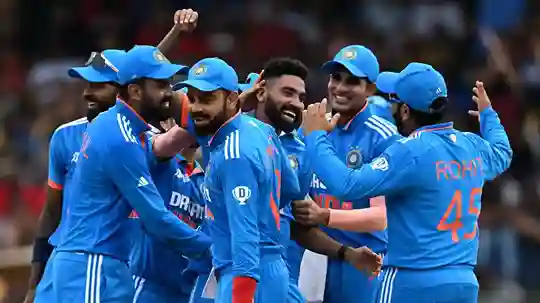 ICC World Cup 2023 India Squad and Their ODI Stats
| | | | | | | | |
| --- | --- | --- | --- | --- | --- | --- | --- |
| Player | Matches | Runs | HS | 100/50 | Wickets | BB | 5w/4w |
| Rohit Sharma | 250 | 10031 | 264 | 30/51 | 8 | 2/27 | – |
| Virat Kohli | 280 | 13027 | 183 | 47/64 | 4 | 1/5 | – |
| Shubman Gill | 35 | 1917 | 208 | 6/9 | – | – | – |
| Shreyas Iyer | 46 | 1753 | 113 | 3/14 | – | – | – |
| Ishan Kishan | 25 | 886 | 210 | 1/7 | – | – | – |
| KL Rahul | 60 | 2265 | 112 | 6/15 | – | – | – |
| Hardik Pandya | 82 | 1758 | 92* | 0/11 | 79 | 4/24 | 0/1 |
| Suryakumar Yadav | 29 | 659 | 72 | 0/4 | – | – | – |
| Ravindra Jadeja | 184 | 2588 | 87 | 0/13 | 201 | 5/36 | 1/7 |
| Axar Patel | 54 | 481 | 64* | 0/2 | 59 | 3/24 | 0/0 |
| Shardul Thakur | 43 | 329 | 50* | 0/1 | 63 | 4/37 | 0/3 |
| Jasprit Bumrah | 77 | 68 | 16 | 0/0 | 126 | 6/19 | 2/5 |
| Mohammed Shami | 93 | 210 | 25 | 0/0 | 170 | 5/51 | 2/9 |
| Mohammed Siraj | 29 | 36 | 9 | 0/0 | 53 | 6/21 | 1/2 |
| Kuldeep Yadav | 89 | 168 | 19 | 0/0 | 150 | 6/25 | 2/7 |
Also Read: T20 World Cup 2024: Dates, Venues, Teams And What You Need To Know
India's Schedule for ODI World Cup 2023
| | | |
| --- | --- | --- |
| Date | Against | Venue |
| 8 October | Australia | Chennai |
| 11 October | Aghanistan | Delhi |
| 14 October | Pakistan | Ahmedabad |
| 19 October | Bangladesh | Pune |
| 22 October | New Zealand | Dharamshala |
| 29 October | England | Lucknow |
| 2 November | Sri lanka | Mumbai |
| 5 November | South Africa | Kolkata |
| 12 November | Netherlands | Bengaluru |