Updated: 26 September 2023
ICC World Cup 2023: 8 Days To Go – Teams, Qualification and Trivia To 2011 ODI World Cup India: The 2023 ICC ODI World Cup is just 8 days away, with India hosting the event in the 50-over format for the first time. India has previously co-hosted the tournament three times: in 1987 with Pakistan, in 1996 with Sri Lanka and Pakistan, and in 2011 with Bangladesh and Sri Lanka. This time, India will host the ODI World Cup entirely.
It will consist of 45 league games and three knockout matches. The 13th edition of the men's One-Day International World Cup will be hosted at ten different venues. The tournament is scheduled to commence on October 5th, with defending champion England facing New Zealand at the Narendra Modi Stadium in Ahmedabad
Warm-up matches are set to start on September 29th, just ahead of the World Cup kick-off. Each team will participate in a total of ten warm-up games, translating to two per team. It's worth noting that warm-up matches allow teams to utilize their entire 15-man squad but do not hold official ICC status. India's initial warm-up encounter will be against England, with their inaugural World Cup match scheduled against Australia on October 8th
Also Read: ICC World Cup 2023: Team India Players List, Squad, Their ODI Stats And Full Schedule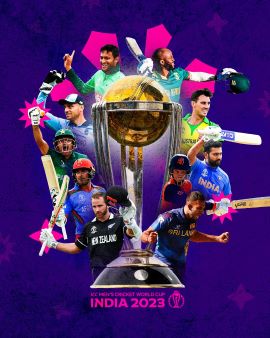 ICC World Cup 2023: Teams and Qualification
India secured their place as hosts for the tournament, while the next seven countries earned their spots based on their performance in the ICC Men's Cricket World Cup Super League, a three-year competition featuring 13 nations, each participating in eight three-match bilateral series.
The top eight finishers in the Super League – New Zealand, England, Bangladesh, Pakistan, Australia, Afghanistan, and South Africa – secured direct qualification for the Cricket World Cup. The remaining five teams moved on to the Cricket World Cup Qualifier, where they were joined by participants from League 2 and the Qualifier Play-Off competition.
Sri Lanka and the Netherlands, finishing 10th and 13th, respectively, in the Super League, clinched their spots in the Cricket World Cup 2023 solely through the Qualifier. Sri Lanka topped the qualifier standings, followed by the Netherlands
Also Read: ICC World Cup 2023 9 Days To Go: First Match ENG vs. NZ – Details, Squads, Head-To-Head, And Where to Watch
A Trivia To ICC ODI Men's World Cup 2011
India clinched its second-ever World Cup victory when MS Dhoni smashed the ball into the crowd during the second ball of the 49th over. Gautam Gambhir was the star of the final, scoring 97 runs, while Captain Dhoni led the team admirably. The culmination of this thrilling journey was the trophy, ending a 28-year-long wait.
This World Cup held immense significance for countless Indians, especially for the cricketing legend Sachin Tendulkar, who carried the nation's hopes for 22 years and had waited for this moment through six ODI World Cups. Following their triumph, Indian players hoisted Sachin on their shoulders, and that night, India went to bed with a thousand memories and smiles on their faces.
Stats and Records
Winner: India
Runner Up: Sri Lanka
Player Of Tournament: Yuvraj Singh
Highest Team Score: 370/4 by India vs Bangladesh
Lowest Team Score: 58/10 by Bangladesh against West Indies
Most Runs: 500 runs by TM Dilshan
Highest Indi score: 175 by Virendra Sehwag against Bangladesh         
Most Wickets: 21 Wickets by Shahid Afridi
Best Bowling:  6/27 by Kemar Roach against Netherlands